The End of Toontown - eXitus
is popular video uploaded by
SteveMuller004
on Youtube. All Special Effects were programmed by MSSoft in C#.
Video Description
Edit
"eXitus - End of Toontown" describes the end of the once splendid city of the Toon World.
The city is destroyed in two aspects: the Toons themselves are responsible for the depravation of the town, they become arrogant and refuse to help each other. The Toon Society becomes extremely fragile and de-organized. The Cogs exploit this situation in order to give them a final clip and to take over the town. Unfortunately the amount of resistent Toons is far too small to impede the Cogs. They are not only being hunted by the Cogs, but also betrayed by their ancient fellow citizens.
Characters
Edit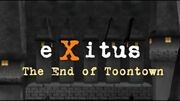 A remake version of the original video will be created by joey19982 on Youtube. It will be a full length 1-hour movie. It will be created with Panda3D solfwares. It will be released in Early 2012. According to the creator - it will be released sometime around March and June. The creator is currently working on the project.
[1]A trailer was released on November 3, 2011.Edit
Community content is available under
CC-BY-SA
unless otherwise noted.