This article or Fanfiction is a stub. You can help Toontown Fanon Wiki by expanding it , remember to ask permission before editing a Fanfiction!
Gett is a Toon Dog who first features in Toons in Time!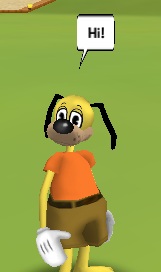 He also features in Toontown - Red Nose Day Special and The Television Trap
Characterisiation
Edit
Toons In Time
Edit
Gett is very scared at first, he wants to become like Bonkers. So he does a field office, but when he is about to finish, he gets sent into a time portal and finds Bonkers. They get back to the present day and then go back to the future to defeat Thorn Flandell.
When Bonkers is exposed to radiation, thanks to Gett's quick thinking, he got the Time Toons to shoot at a machine sending everyone back to the present, just in time for K22 to cure Bonkers. Then after a duel, Bonkers is knocked onto the floor and Gett steps in to help, he defeats Thorn Flandell and saves Toontown, in the end he is more stronger and is invited to join Super Toons, naturally, he accepts. Now he is a stronger person and is getting stronger by the minute.
Toontown - Red Nose Day Special
Edit
In this fanfiction, Gett hasn't changed much and has bonded with Jellyroll Zillerwig.